I've been on the hunt for a good pair of neutral (nude, blush, tan) booties for fall. I've been trying to downsize and simplify my wardrobe so getting dressed doesn't require much thought and everything matches everything. I know a pair of neutral booties would get a lot of use! I might be inspired by Emily Henderson's Rachel Comey goes-with-everything shoe collection, but I can't afford $400+ shoes. I know a lot of people are probably in the same boat (referring to the expensive shoes, not being obsessed with Emily Henderson), so I thought I'd share my findings thus far. I'm not sure which of these I'll go with, if any, but I'll let you know my thoughts on each below.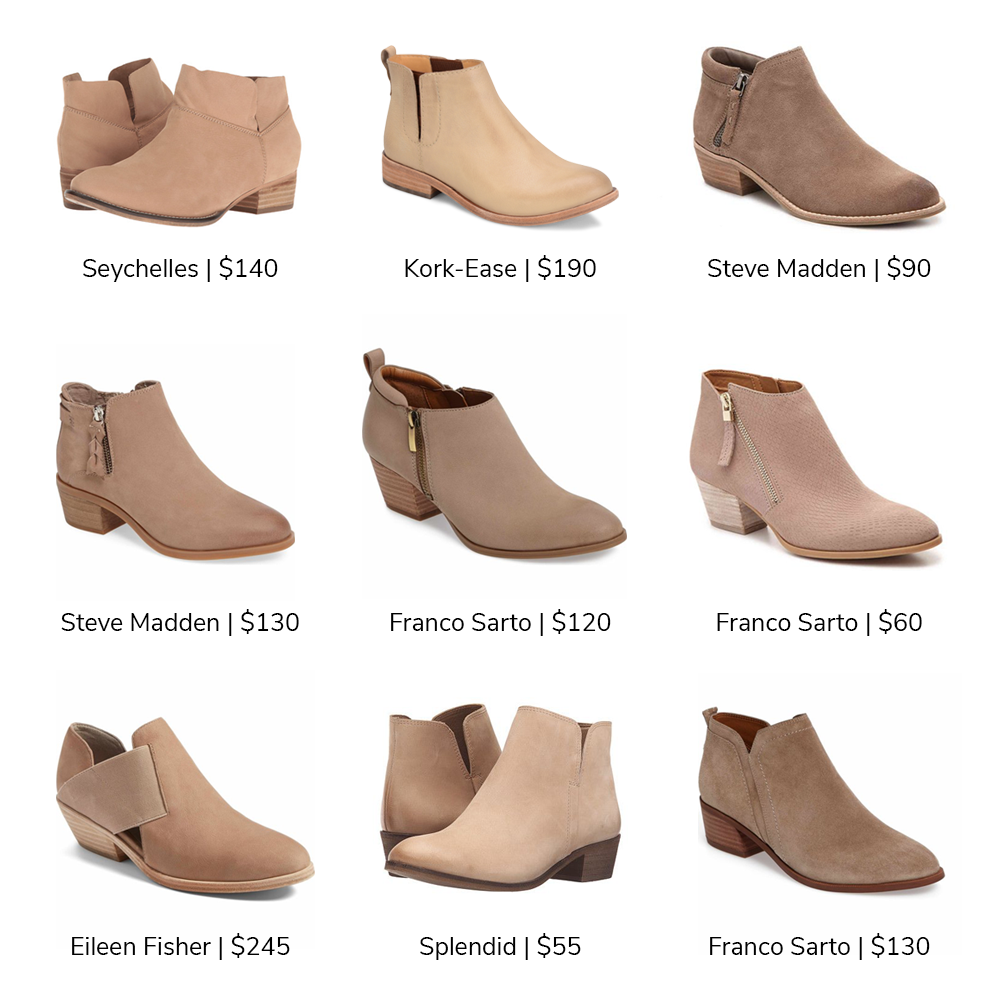 1. Seychelles for $140 – These were the very first pair I found that I like, and I still really like them. The color is MOST perfect out of all of these. I like the small heel, and I like that they're nubuck rather than suede (just personal preference). My main issue with them is that collar around the top; I can't decide if I like that or not. But these are definitely a contender!
2. Kork-Ease for $190 – I love this brand because they're super comfy and they hold up well. I think these may be more beige (too light) than what I'm wanting, and I also think I want a bit more of a heel.
3. Steve Madden for $90 – Good price, and I like the low shaft. I think these would look great with both pants and dresses. I think these are too brown for what I'm looking for, though (I want more of a nude).
4. Steve Madden for $130 – These are a top contender for me! The color is almost as perfect as the color of #1. The heel height looks great, and I like the low shaft. My only concern is the part around the ankle looks like it might be uncomfortable. I guess it depends on how soft the leather is.
5. Franco Sarto for $120 – The shape of these is probably my favorite out of all of these picks. I love the gold zipper, and the cushioned part on the back of the ankle looks like a comfy touch. Once again, color is the issue for me. Maybe I'm too picky!
6. Franco Sarto for $60 – The price is tempting! I like the color and the zipper on these. The have an embossed texture that makes them unique. I'm not sure I want that though. I'm looking for simple!
7. Eileen Fisher for $245 – These might be my favorites! But that price! They're actually on sale right now for $160 for Nordstrom's Anniversary Sale, but I don't know if I can make a decision soon enough to snag them for that price. I like that they're unique, the color is great, and they look sooo comfortable!
8. Splendid for $55 – These are also a contender for me, and they're such a great price since they're last season. I can't decide if the color might be too light, though. And the shaft might be a bit higher than I want.
9. Franco Sarto for $130 – These are really pretty boots, and the color is so rich! I like the details that make them a little different from the others in the list. But they're also not quite the color I'm wanting.
Which are your favorites?