Yesterday my office was closed because of snow/ice, so I spent two hours cleaning my kitchen. I'm pretty sure it was cleaner than it's ever been. I know I have some friends who are curious to see my house, so I figured I'd take pictures while it was sparkling clean.
I'll eventually share pictures of the rest of my house, but the other rooms are much more still works-in-progress.
I've got a doggy door! The previous tenant had a rat terrior. Bert's a bit too big to fit.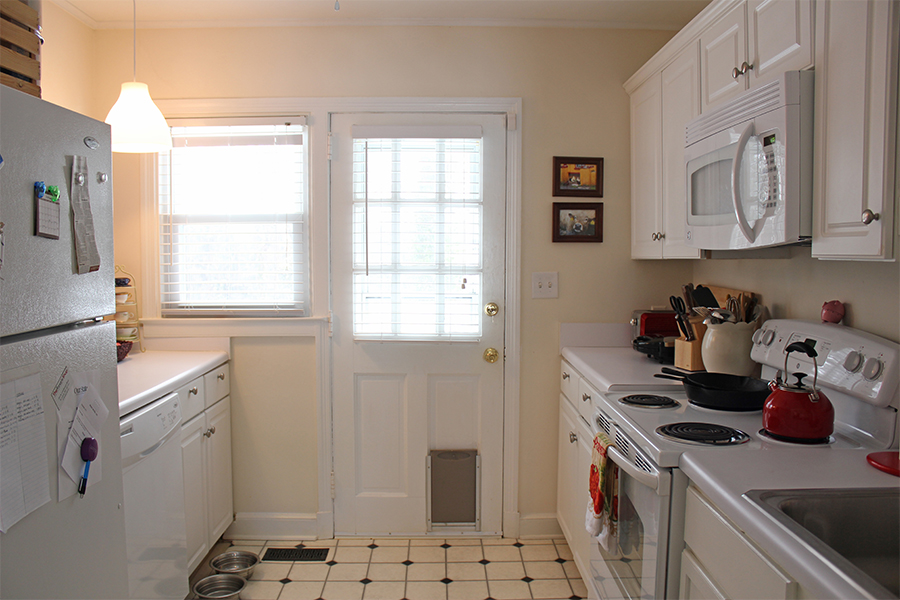 Most everything in my kitchen came from yard sales, Goodwill, or was given to me.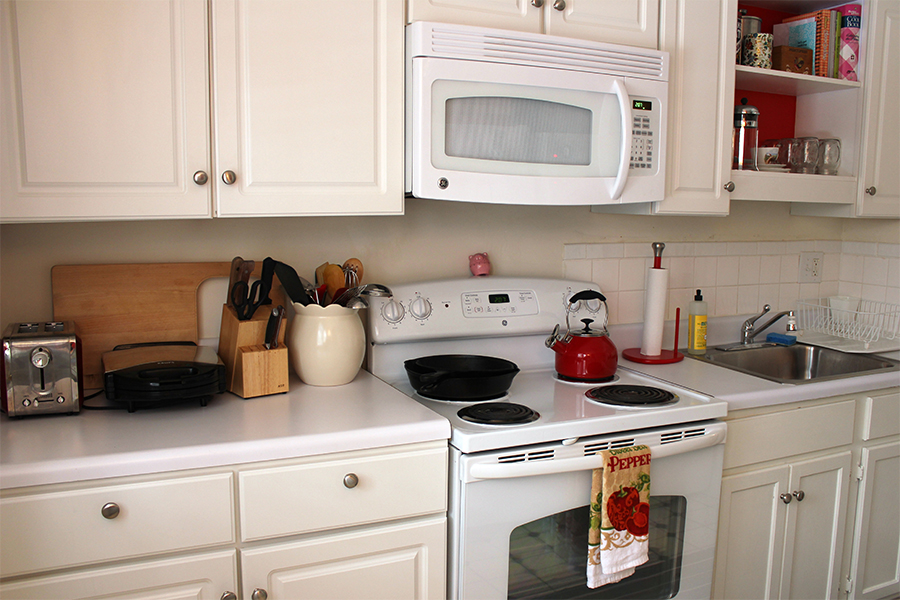 The number of appliances in this kitchen is rather ridiculous. Half of them are my roommates, though. I could get along with just a toaster and blender (and in a dream world, a KitchenAid mixer). When my sister moves in, I'm hoping the countertops will be taken up with fewer unsightly appliances. The previous tenant left several slabs of pegboard in the shed, so I painted one red and had my dad help put it up. The spice racks are IKEA, painted red, and the pendant light is also IKEA. It really bugs me that the bottom edge of the pegboard and the lowest spice shelf aren't aligned. I put the spice shelves up several weeks before the pegboard, but I could't put the pegboard that low because of an outlet. One day perhaps I'll shift the spice shelves up six inches. My teacups are souvenirs from my travels and gifts from friends.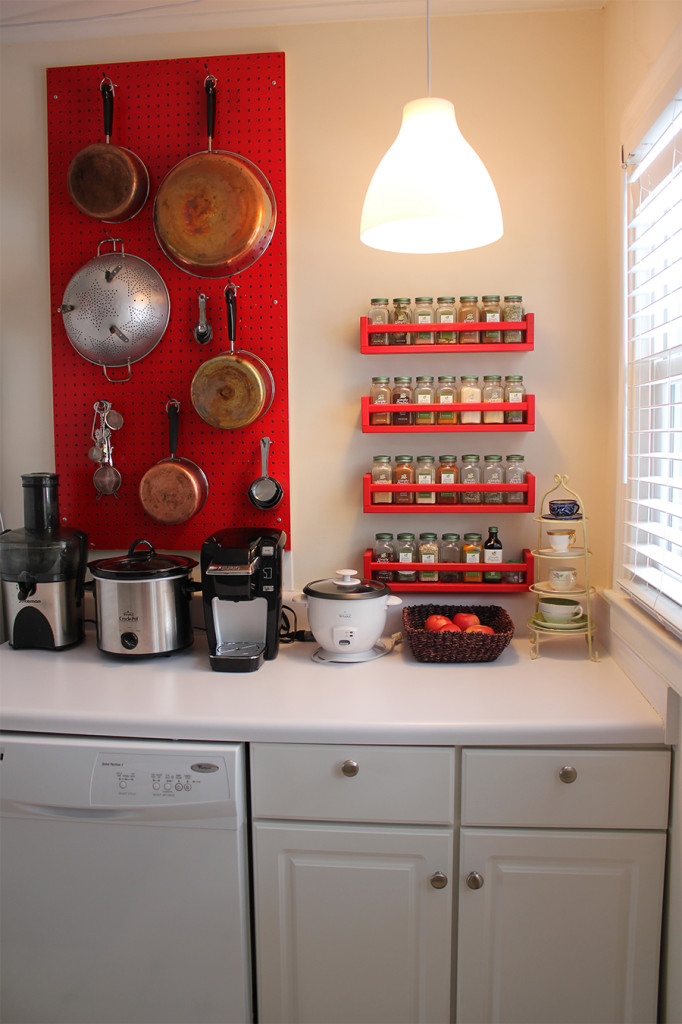 A coworker gave me the toaster. The fact that I needed a toaster randomly came up in conversation my first month at my job and she had a toaster she didn't need. How cool is it that it just happened to be red so it matches the rest of my kitchen? I love the open shelves above my sink. It gives me a way to decorate my tiny kitchen, since there's not much wall space for hanging art. I lined the back with red contact paper. The tins on the top shelf are yard sale finds, the recipe box is from an antique store, and the tea cup is from Ireland. The paper towel holder was just an ugly thing from Goodwill. I painted it red and now it's much prettier.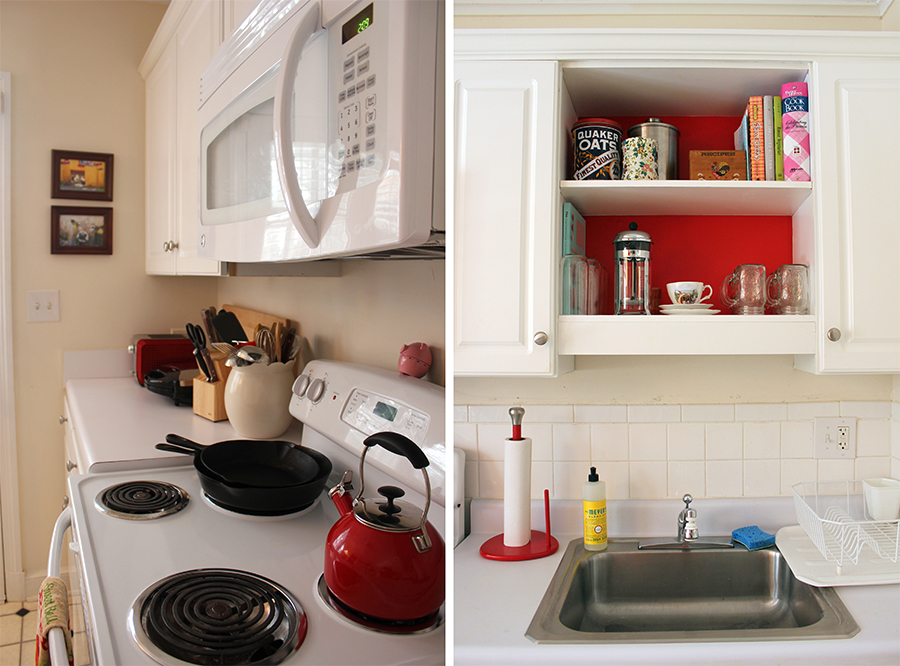 So the kitchen floor is an ugly, stained vinyl, and part of it is missing in front of the cabinets on the left side of the room (you can kinda see in the first picture). I bought the striped runner rug from IKEA. I like it a lot, but with Bert, it's always soiled and covered in white dog fur. Oh well.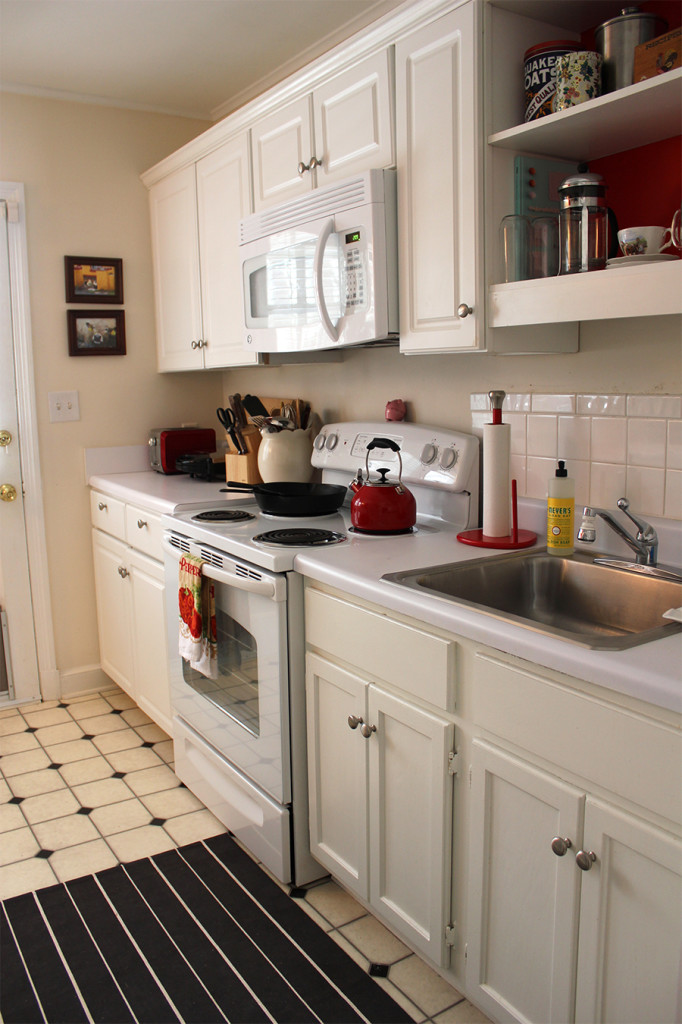 These are a couple photos I took on my trip to Ireland in 2012. Because who doesn't want to look and cute cows and chickens while cooking beef or chicken?