I recently finished up a website! The website is for Danville Concert Association. They came to me this summer wanting a website designed in time for the 2013-2014 season. This was a fun project to work on, as I love the performing arts. I've always enjoyed going to musical performances, ballets, theatre productions, etc. It was cool to get a glimpse at the performances that are going to be happening in the area in coming months.
This project was also a step away from the types of projects I typically seem to attract – "green" I guess is the best way to describe them. Have a look at my portfolio and I'm sure you'll see what I'm talking about. I loved doing every one of those projects and they fit well with my interests. I hope to get more like them in the future, but it's nice to diversify my portfolio and design for other things I'm passionate about, and I'm passionate about the arts.
Danville Concert Association wanted a sleek, modern website. They emphasized they they didn't want it to look busy or cluttered, and they wanted to put a lot of emphasis on photos of performers. The website is based in WordPress, so members of the association board can go in and make updates themselves.
Information architecture for this project was fun. Yes, fun. I have a penchant for organizing and optimizing, so figuring out how to best present all the information they wanted on the website was a process I enjoyed.
This was the first website project I've done that I didn't actually develop myself. I recently decided to focus on design, outsourcing development. I contacted a friend from college to do the development – Chiedo Labs. They do fantastic work and are very amiable and easy to communicate with.
Here is a screenshot. Visit http://danvilleconcert.org/ to see the full, functional website!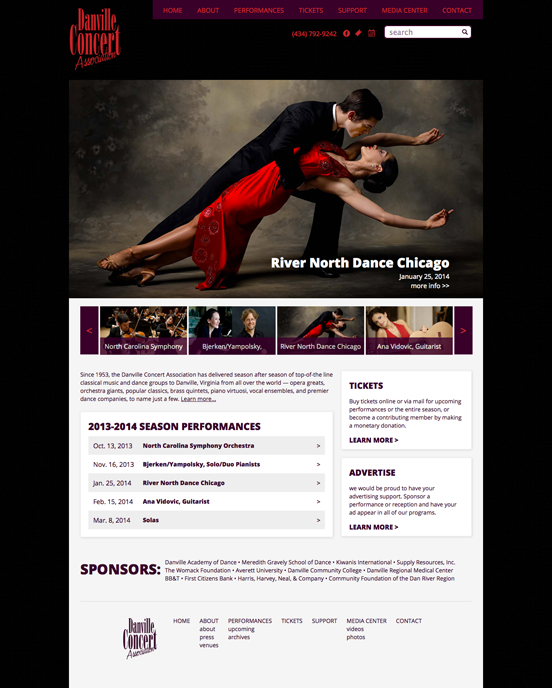 © Maggie Josey 2013