Last year,  I shared a rather deep blog post as my 24th birthday was approaching. I ended the post with the hope that 24 would be a fantastic year, and it was. I don't have a letterpress studio (yet) and I still haven't gone star-gazing, but I traveled; went to museums, concerts, ballets, etc.; continued to grow in my career; found love; and even became more self-assured.
All the dreams I shared last year still hold true, so I'm not going to write another post like that this year. Instead, I'm going to share a little wish list. I'll probably treat myself to at least a few of these things as my birthday approaches. I'm 25. That's a quarter of a century. I think I deserve it.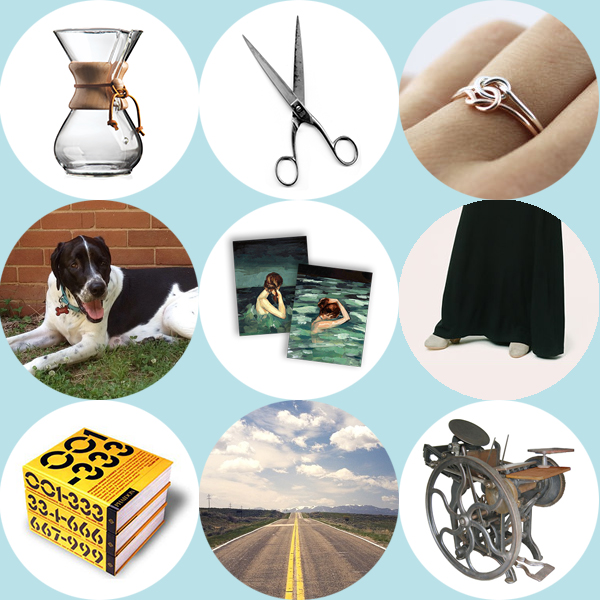 1. Chemex coffeemaker – I love my French press, but I also love pour over coffee (no sediment!). Now the only question is, three cup or six?
2. A haircut – Haircuts aren't cheap, particularly for someone like myself who prefers to go to a DevaCurl certified stylist. I'm overdue for a haircut.
3. Rings – I don't wear jewelry often, apart from earrings. My style has changed quite a bit since I acquired most of the jewelry I own. I would love some more simple pieces. I really like a lot of the rings in this Etsy shop. I also like this necklace.
4. Bert bath – My dog needs a bath. I don't have a bathtub and it's too cold outside to use the hose. A bath/nail trimming is $35, thus, Bert doesn't get baths as often as I'd like.
5. Art prints – There are a few areas of my house where I'd like some more or new art. The bathroom is one of those places. Yes, the bathroom deserves to be pretty, too. I love these sea prints and I they'd go well with the color scheme in my bathroom.
6. Maxi dress – Petite maxi dress for my petite self. Need anything else be said?
7. Phaidon Design Classics – These have been on my wish list for at least three years. The backstories of 999 everyday things considered to be "design classics."
8. Roadtrip – It's been a while since I've gone on a vacation or road trip. Maybe a weekend trip to D.C.? I need travel!
9. Chandler and Price letterpress – That letterpress studio I want? Well this would be the start of it—the most essential component.
10. A chair for my bedroom (not pictured) - I recently moved my office (computer, art supplies) to a separate room, so now I have some extra space in my bedroom. While I'd love a designer chair to go in the empty space, this much cheaper Ikea chair and footstool would be an acceptable alternative.