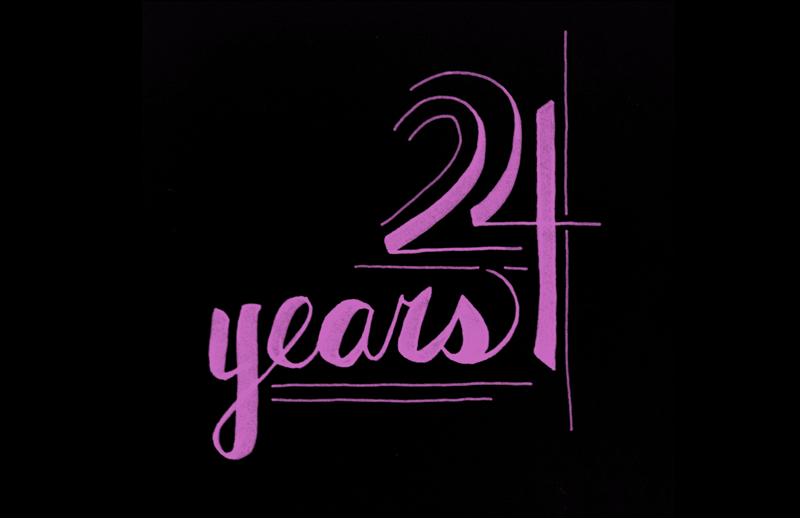 © Maggie Josey 2014
"Our anxiety does not come from thinking about the future, but from wanting to control it." – Kahlil Gibran
I turn 24 in 22 days.
For some reason, 24 is more daunting than 23. I don't remember 23 seeming any more daunting than 22. And 22 no more than 21. Getting older has never caused me to feel anything but excitement or nonchalance. Never scary. Perhaps trifling, but never unfortunate.
Anyone reading this who's, say 26 or 28 or 32 or some other age older than 24 is probably sniggering at how I fret over 24.
I've been working a wonderful new job for three months now. I live in a nice little house that I've decorated to my liking. I have an adorable, well-behaved dog (I insist I can't live without a dog). I have friends both near and far I treasure. My family is close by. I live in a beautiful state with plenty of geographical and cultural diversity.
I'm in a good place, so why be bothered about getting a bit older? (Older, not old. I'm well-aware most people consider 24 a youthful age.)
I'm not the most patient person. In fact, I'm very impatient. I don't let it show often. I internalize it, as I also internalize most of my feelings. My tendency to stay silent (and I refer to more than just my introversion) is a weakness. A weakness I strive to overcome. I fear judgment, rejection, criticism, so I don't share much. I overanalyze everything. I assume judgment and rejection where there likely is none. And what that has to do with impatience—well, let's hope I figure that out as I continue to write.
Impatience…internalizing…fears. I suppose my fear of judgment and rejection stems from a fear of lack of control. I'm impatient because I want to be in control. I still have dreams that have yet to be fulfilled. I am a dreamer if there ever was a dreamer. I live in my head (Remember I said I internalize everything?). I'm a thinker, I'm a listener, I'm a processor, I'm an analyzer; I'm not a talker. That seemingly mundane 'conversation' we had three weeks ago, when I didn't say much of anything? I remember it in greater detail than you probably think. My silence is rarely apathy. I think I oftentimes feel more connected, closer to people than they feel to me because I listen much, yet share little.
So now that I've gotten rather off-topic, expounding an analysis of my psyche, let me get back to 24.
I think 24 makes me anxious because I'm impatient and I still have so many dreams that seem out-of–reach. And I'm getting oooold(er)! I want control. I want to just make things happen. I don't want to wait. I fear my dreams not coming to fruition. And why 24? Why didn't this hit me at 23 or wait until 25? Beats me, but I suddenly feel as if I need to utilize every moment in a way that will get me closer to my dreams, and that stresses me. Stress is no good!
Really, my purpose for writing this is to put some of my dreams on paper, so to speak. (I guess…on screen?) Writing, in addition to art, has always been cathartic for me. While putting my dreams in writing doesn't expel some magic into the cosmos that speeds up the dream-to-fruition process, it does make me feel better, and when I feel better I'm more motivated. So, writing –> happy Maggie –> motivated Maggie –> dream-achieving Maggie! Writing is also a way for me to dump all those internalized feelings without speaking to anyone directly, and I need that sometimes (cathartic!). Talking to people is hard for me, as I've already made clear.
So here we go. These are some of my dreams. Some are more lofty than others. Some, people may find silly or naïve. Some may require money, some openness, some courage, and some time. Most probably require me to overcome those fears I talked about earlier. I don't really know yet, as I haven't thought out what dreams I'm going to list, and I won't until I'm done typing this paragraph. Which is now. So let the list-making commence! In no particular order…
1. Have my own letterpress studio.
The very last class I took before leaving JMU was a letterpress printing class, and I discovered a new passion. Problem: the equipment I need to pursue the passion isn't readily available. I'd love to buy a press and all the equipment I need to operate it. Unfortunately, presses are expensive and require a lot of expensive equipment and accessories. My best bet would be to find someone selling all of their equipment for a bundle price. Regardless of how I obtain it, though, I'm far from being able to afford it right now. Unless I happen upon someone giving a press away (anyone?). Time to start saving!
"The only way to do great work is to love what you do. If you haven't found it yet, keep looking. Don't settle. As with all matters of the heart, you'll know when you find it."- Steve Jobs

"Never give up on a dream just because of the time it will take to accomplish it. The time will pass anyway." – Earl Nightingale

"The sky's the limit. Your sky. Your limit. Now. Let's Dance" – Tom Hiddleston (Hiddleston, I would happily dance with you!)
2. Travel.
I have an incurable travel bug. Travel is invigorating. Travel doesn't burn me out like it does some people. In 2012, a week after I moved home from college, I went on a road trip to St. Louis. I returned home from the road trip at midnight, got up again at three in the morning, drove three hours to the airport, then went to Ireland for two weeks. My mom didn't think I'd want to do the St. Louis trip because it'd be to stressful fitting that in between moving home and going overseas. HA. No. It was wonderful and I'd do it again in a heartbeat. I get antsy like a three-year-old at an opera if I try to be a homebody for too long. I want to get to know North Carolina (yes, I work for a N.C. magazine, but I actually want to get out and explore, not just read about it). I want travel through the states and see everything, off the beaten path and on. I want to travel abroad. I want to visit places I've been; pick up where I left off (Ireland, Italy). I want to experience as many cultures and see as many natural wonders as I can. I want to eat things, weird and wonderful.
"…be a traveler, not a tourist. Try new things, meet new people, and look beyond what's right in front of you. Those are the keys to understanding this amazing world we live in." – Andrew Zimmern

"I hope you see things that startle you. I hope you feel things you never felt before. I hope you meet people with a different point of view…" – F. Scott Fitzgerald
3. Saturate my life with arts and culture.
I love ballets, I love theater, I love music of all sorts, I love art, I love history and science, I love literature. I could go on. I go to performances and museums when I get the chance, but there was this three month span in my life when I fed that love every day. I think back on that time fondly, and it makes me realize I need to make more time for that again . When I studied abroad in London, I went to West End (and more avant-garde) productions every week. I went to museums and cafes and markets and new places every day. Of course, my London experience was expensive and I can't afford to live like that. But going to one concert, ballet, opera, or theatrical production a month won't empty my pockets. I'm sure there are plenty of museums nearby enough to make day trips of, and books and documentaries are readily available. I just need to make time.
"Be curious. Read widely. Try new things. What people call intelligence just boils down to curiosity."?- Aaron Swartz

"I have no special talent. I am only passionately curious." – Albert Einstein
4. Be 100% satisfied with my career.
I love my job. I should make that clear. But I know I'm not going to be an editorial production assistant for the rest of my life. It's an entry-level job. I hope to work my way up (and over and around, if necessary) to a "this is it!" job. If that's within the company I'm currently with, then awesome. If not, oh well. I've been very confused for the past several years about what I truly am passionate about and enjoy doing. There are things I've decided I don't actually like, and there are things I've discovered I do enjoy doing. Honestly, these discovery years have been tough—painful even. And I'm still learning about myself. Sometimes I'm crazy confident and excited about what I'm doing, and sometimes I'm discouraged to the point of tears. But I'm definitely in a better spot emotionally—a much better spot—than I was six months ago. God has showed me that he has a plan for me—a far better plan than what I can fathom. I have to keep reminding myself of that and trust Him completely.
"Relax. You will become an adult. You will figure out your career…You have a whole lifetime; time takes time. The only way to fail at life is to abstain." – Johanna de Silentio

"I don't want to earn my living; I want to live." – Oscar Wilde
5. See the stars.
I want to go somewhere hundreds of miles from civilization, someplace untouched by the hands of man, someplace where the sky is minimally obstructed by light pollution. I want to lie down and just watch the sky…the stars. Stars are beautiful, formidable, mesmerizing, miraculous, romantic, mysterious, omniscient, indispensable, ageless. It saddens me that there are so few places left on earth where we can really see even a fraction of what there is to see. I want to see as many stars as I can. I want to truly experience the night sky, no matter how far I have to go.
"I know nothing with any certainty, but the sight of the stars makes me dream." – Vincent Van Gogh

"For the moon never beams, without bringing me dreams…"
– Edgar Allen Poe
6. Have a family.
Yes, I'm admitting it. I don't want to be single the rest of my life. And by saying family, I'm not implying kids. And by saying I'm not implying kids, I'm not implying no kids. Am I being clear? I have no idea what my future holds in terms of family. I want to love someone and to be loved. I want someone to talk to, to travel with, to cozy up at home with, to experience life with, to grow old with. Basically, I want to get married someday. I say "have a family" rather than "get married" because the latter makes me think of weddings and rings and bridesmaids and flowers and receptions…and honestly, I don't care a great deal about that. I care about having a wonderful, life-long, godly relationship, not necessarily the material stuff that's traditionally tacked onto officializing it.
"Oh, the comfort, the inexpressible comfort of feeling safe with a person, having neither to weigh thoughts nor measure words, but pouring them all out, just as they are, chaff and grain together, certain that a faithful hand will take and sift them, keep what is worth keeping, and with a breath of kindness blow the rest away." – George Eliot

"Life's greatest happiness is to be convinced we are loved." – Victor Hugo

"I'm looking for someone to share in an adventure that I am arranging, and it's very difficult to find anyone." – J.R.R. Tolkien
7. Let go. Open up. Be more self-assured.
I'm an introvert, yes. Nothing wrong with that. But I'm also very shy. I don't need to go into detail here. Just go read the fifth paragraph above about my tendency to stay silent. I've never made friends easily, and in fact, I'm quite certain my reservedness has caused me to be misinterpreted as egotistical and insensitive many times in my life. I hope that those people who truly know me would, without hesitation, deny that. I'm not one to start a conversation with someone I don't know well, but that's because I get really anxious. It's not because I'm judging. It's because I'm scared of being judged. I enjoy getting to know people (I really, really enjoy getting to know people. I'm a rather affectionate person. I value relationships immensely.), but it's not easy for me to allow people to get to know me. There are many times I've avoided social situations, and there are many wonderful relationships that could have been if I would just stop being so scared of people. Easier said than done.
"Be Fearlessly Authentic." – Megan Gilger

"I live my life as straight-forward as possible. …We never know the magic that can arise between ourselves and other humans." – Rachel C. Lewis

"You cannot live when you are untouchable. Life is vulnerability. – Édouard Boubat
You probably just learned quite a bit about me. Sorry. That was long. If you actually made it this far, though, you must have been at least somewhat interested. And hopefully you don't see writing a 2300 word blog post about myself as egotistical. If you want, you can go write a 2300 word blog post about yourself on your blog now. I'll happily read it and not think you conceited.
So. Let's end this thing. Next time you see me, give me a hug and tell me 24 will be fantastic. I'd like that.
"Remember how far you've come, not just how far you have to go. You are not where you want to be, but neither are you where you used to be." – Rick Warren