Daniel and I don't really plan to do much in terms of gifts for Christmas this year. We've had a lot of expenses recently, and the tuition for his final semester of school in the spring is crazy expensive. We might get a few new items of clothing (things we need), but that's probably it. My family has skipped gifts for years and has just celebrated by spending time together, which I actually really like. But Daniel is working late tonight and I'm bored, so I made a wishlist just for fun.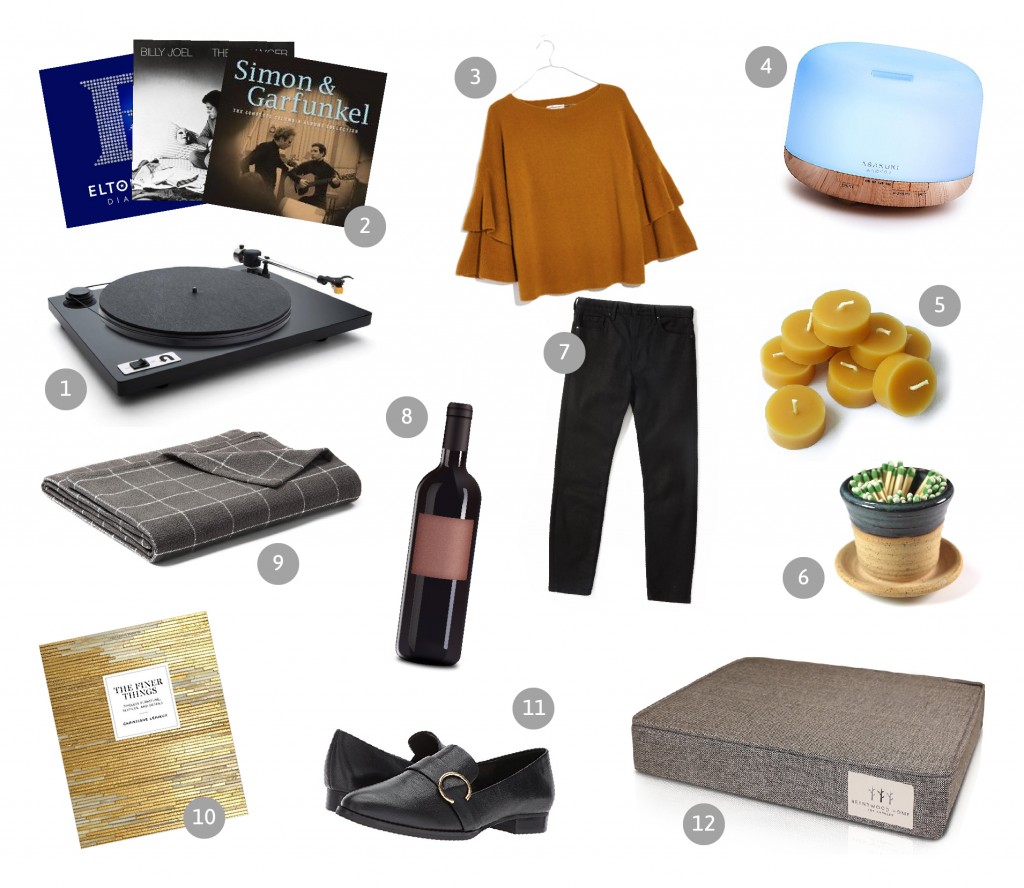 1. Daniel and I would love to get a record player eventually. This one is sleek and the basic is fairly affordable. Though I love the walnut version!
2. We'd need records for the record player! We could probably acquire a lot by thrifting, since we both favor older music. I think Elton John, Billy Joel, and Simon and Garfunkel would be a great starting point. Essentials!
3. I loooove this bronzy gold color. I have for years, yet I don't own much this color (one cardigan). This Madewell sweater is fun.
4. We have a diffuser we keep in the living room, but I really want one for the bedroom. This one is affordable and has great reviews. Though I also really like the one we have and wouldn't mind another.
5. I've been wanting some beeswax candles for a while. I got rid of all scented candles in our house because they are toxic and they give me headaches, but I like the ambiance of candles. Beeswax candles are the solution! I'd like some made locally.
6. A pretty ceramic match striker to go with the candles, so I'll be encouraged to light the candles more often.
7. I really need some new work pants! I want to try Everlane's new denim in black.  A few other basic colors (navy, gray, olive) would be nice. I'd probably go with Loft's sateen leggings. Loft is pretty much no-fail for me.
8. Wine is always a great gift.
9. Blankets are always good gifts for a cold natured person! Young House Love led me to this blanket. I like that it comes in king size and it's 100% cotton. I like the gray and the white windowpane. I can't decide which I prefer!
10. I want all of the interior design books! This one looks good, just from a quick look-through.
11. Daniel would probably say I don't need more shoes, but black flats are my go-to for most outfits in winter and all mine are in bad condition. I really like these, but I also like these and these and these and these.
12. This would technically be a gift for Bert, but I have to look at his grimy bed every day, so it's for me too. All the attractive ones are expensive (not to mention he needs XL). I like the woven look of this one. I think it would hide dirt and fur well.